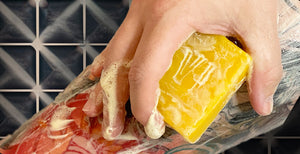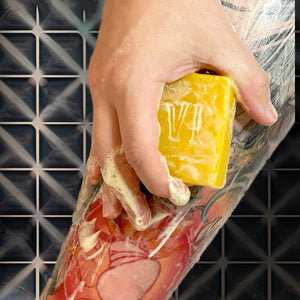 Soap Crafted For New And Healed Tattoos
All Natural Tattoo Aftercare Soap
Gentle cleansing soap for new and existing tattoos
Soap Specifically crafted for new and healed tattoos
Our bar soap is specifically made to support the healing process and beyond of your tattoos.
healthy skin, Healthy ink.
Safe and effective tattoo aftercare - VI Tattoo Soap is a natural, unscented tattoo aftercare cleansing soap that helps keep your tattoos healthy and clean as well as looking fresh and vibrant. Our tattoo soap is specifically formulated to cleanse your skin and give it the nutrients it needs during the recovery process of your new tattoos
Tattoo Artist and Client Approved
VI Tattoo Soap is approved by tattoo artists and is the go-to for their clients' tattoo care. Made with all-natural ingredients, our soap helps protect and preserve your tattoos, ensuring they look their best for years to come. Trust us, your skin (and tattoos) will thank you.
how to use
I
With clean hands, lather up the soap bar with warm water.
II
Gently apply where needed. Rinse off. After washing, gently pat with a clean towel or cloth.
III
Keep your bar soap dry between uses. We recommend using a soap holder with drainage slats. Store your soap away from the spray of water.
Shop Bamboo soap saver here
BE Natural
All Natural Bar Soap Specifically Crafted for tattoo aftercare
Cleanse, protect and enhance your lifetime investments of ink. VI Tattoo Soap is unscented, mild and does not contain any alcohol or harsh chemicals to irritate or dry out your skin.
See Ingredients
★★★★★

The hemp-seed oil bar made my skin feel amazing right away.

Naysla D

Dallas, TX
★★★★★

So much better feeling than the liquid aftercare soap. No dry feeling afterwards.

Jason T

Kingwood, TX
★★★★★

Love the sea buckthorn bar, I can't wait to try the other bars.

Whitley Q

Arlington, TX
★★★★★

I'm 1 week deep on using this soap, my skin feels so much cleaner and my tattoo is progressing so nicely.

Colby C

Baton Rouge
★★★★★

The Sea Buckthorn soap is a game changer. Gentle and made my skin feel super healthy.

George

Dublin, Ireland
Clean Ingredients, Responsibly sourced.
VI TO BE ECo-friendly
We've made it our mission to always use sustainable and responsibly sourced ingredients when crafting our products.